How Is COVID-19 Pandemic Impacting the Ecommerce Market?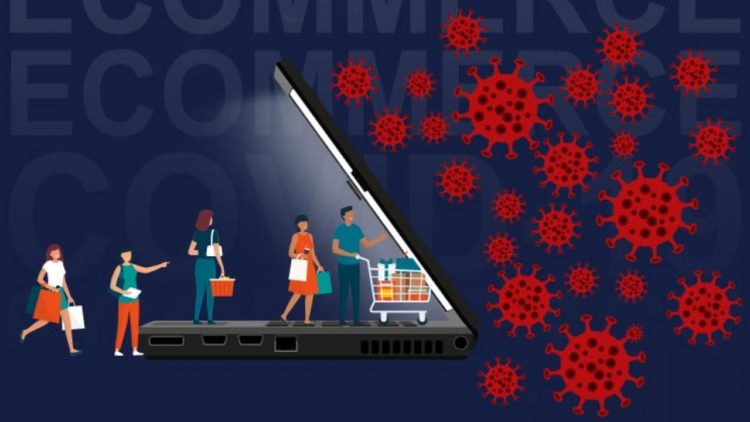 COVID-19 pandemic has been a wakeup call for many, but particularly for businesses all over the world. Ecommerce has seen a boost due to the strict SOP's put in place to tackle with this virus. Social distancing has played a vital role in this aspect. Even though many people faced a lot of difficulties, like losing their jobs, despite being the sole provider for their family, companies and CEO's provided them online jobs to cope with their problems.
Growth of Consumers:
To be a bit specific the generation of boomers and millennials was somewhat hesitant in online shopping before the pandemic, as compared to generation z. The youth already bought from brands that had their pages on Facebook and Instagram way before COVID-19 came. Despite being inexperienced, the older generations stepped into the world of online buying, and to cater to their need's pharmacies and grocers and utility stores also teamed up with delivery companies. Consequently, the growth in demand leads to growth in supply. People became more aware of these services and their usage. They became more comfortable with it. This may change the course of buying and selling for the long term. As it saves a lot of time, money in terms of fuel expenses for the consumer and energy as well.
Ecommerce in Developing Countries:
People, who would otherwise regularly roam the streets in search of their favorite pair of shoes, now turn towards online websites like Amazon, Ali Express, etc. In the case of foodies, they have turned towards delivery services like Food panda, uber eats, etc. As a result, delivery services have also been seeing a rise in demand.
Another sector thriving off of COVID-19 is the internet and telecommunication services. After all, the whole system depends upon the communication while keeping at a distance, and these companies serve the purpose well. Money transfer services also benefited from the situation.
Internationally:
Internationally companies like Amazon and uber etc. profited a lot from the COVID-19 pandemic. Their businesses surged and consumers increased massively. Companies all over the world struggled with keeping up with the increase in demand and shortage of supplies. CEO's were concerned because of people indulging in bulk buying. This was good for their company, however, not so great for the overall economy.
Small Businesses:
Small businesses who never thought about branding themselves online, teamed up with delivery services like Food panda, etc. who launched grocery delivery services as well during the lockdown phase. It supported the small businesses along with the consumers who were loyal to them.
Ecommerce and Unemployment:
When unemployment became a problem for people, companies like Food panda and many others, launched offers where people could make food items at home and they would deliver it for them, giving them a source of income and helping those in need with a job.
Impact on Big brands:
Many big brands took a blow financially, and some even went bankrupt, with the lockdown in order, there was initially no work and so people avoided luxury buying. But with time, work from home, made things easier and money started to flow, which eased things for some big brands. As people started to buy non-essential things like mobile phones as well.
What CEO's had to face?
The CEO's initiated contactless deliveries in their respective countries. They had designated pick up and drop off points and the riders maintained a safe distance of at least six feet. Due to the lockdown, the companies saw a sudden decline, but since then they are on an upward trajectory and have seen an increase in orders. Many companies also launched online grocery shopping facility and got an overwhelming response.
COVID took almost everyone, a little bit by surprise. CEO's started focusing on making sure that the customers had what they needed, apart from making sure that there were safe deliveries. The customers wanted to buy essential items more, but still wanted some non-essential items like mobile phones, etc.
Companies started to think about what they could do to optimize the supply chain and actually source the products that they needed.
They had to work with the governments to get the right permits to actually operate in the streets, and ensure the safety of their operation staff, for them and their families. CEO's faced the challenge to redefine the HR processes so that people could work from home to limit the risk of contagion in the workplace.
Many companies introduced online grocery, pharmacy and also introduced basic errand services and extended their business hours to help in times of emergency.
A lot of processes made companies rethink how they operated in the past. For example, working from home. Productivity went up because people didn't need to spend an hour's traffic. Though some companies were not able to cope up with the demand at certain times because they spiked up, very quickly.
Supply shortage became a problem for some businesses. The products which would usually take months to sell was sold out within days. However, to address this inventory shortage companies will have to focus on expanding the universe of small, medium businesses.
Regarding Post COVID-19 situation:
People who feared online ordering in the past are now making multiple online orders. Grocery orders are on the rise as people want to stay in homes. Most departmental stores quickly signed up with delivery companies to fulfill increased surge in-home deliveries.
In the future, more and more brands will be dependent on digital platforms. Internet usage has increased by many folds since the lockdown. This trend will continue to rise as more and more people practice social distancing. As seen in many developed countries, online malls and virtual storefronts opened as soon as a lockdown was imposed. Many brands shifted their marketing efforts and communications online as well.
After the lockdown people were concerned, about how they were going to earn money, especially the small, medium businesses, because they at more or less create a large number of jobs.
With the whole economy stuck, companies wanted to help restart the economy and get that back on track because if they don't help, everybody will lose both online and offline buyers and sellers.
Boost in Economy:
Though the COVID crisis affected many well-established businesses, it has also encouraged many new and young entrepreneurs across the UK, creating an increase in e-commerce. Although there has been some decline in the overall economy, the e-commerce sector's strength is interesting news. Recognizing the growing demand for online sales, the UK's smart entrepreneurs took the opportunity. Apparently, the e-commerce start-up sector boomed like never seen before. There was a rise in the number of new online businesses formed on a daily basis. With many things to feel negative about during this pandemic, it's really nice to see that behind closed doors many people have used this situation to start something new and positive.
There is worrying news all around regarding the pandemic, as the economic impact coronavirus is having on national and global economies is great. Ecommerce has more importance now than ever, both from a business point of view and a consumer point of view. The more businesses now look to help the eCommerce sector, the more we can cope with the damage done.
Even though shoppers can not try and feel clothes, they've started to buy clothes online more quickly than before. Researches have estimated that e-commerce almost makes twice as much sale as it does for offline shopping overall.
Nowadays, assignments experts predict that the pandemic and the behavioral changes it has caused will only increase shoppers buying digitally. The situation is not so bad for online-only sellers, which generally haven't suffered much. As compared to those brands that still rely on offline shopping to earn money. There is a greater chance that those brands will now invest more initiating their digital operations.
The thing is, that not only does the means of selling matters, but also what is being sold. For example, if an online retailer is selling fancy gowns, it won't do the business any good, whereas if they sell more casual wearing clothes, people will prefer those to lounge around in their homes.
Altogether, COVID-19 has both profited and harmed e-commerce around the world, but we can definitely look towards a brighter future. Ecommerce has and will help the economy to get back on its feet in the near future.