GTA 5 Independence Day Celebrations Offering Double RP and GTA$ in GTA Online Events
Rockstar Games announced that GTA 5 Independence Day celebrations will be offering double RP and GTA$ in GTA online events. Grand Theft Auto 5 online mode, Grand Theft Auto Online, will celebrate the Independence Day with a number of events and in-game promotions, just like last year.
Some details of GTA 5 Independence Day celebrations:
Los Santos and Blaine County will celebrate Independence Day in GTA 5 style, stores across these counties will offer a sale for the players on monster trucks called The Liberator, firework rocket launchers and ammo. Vendors will offer 25% off on these items as well as on the Sovereign motorcycle and a bunch of star spangled clothing including red, white, blue gear such as hats, T-shirts, masks and much more.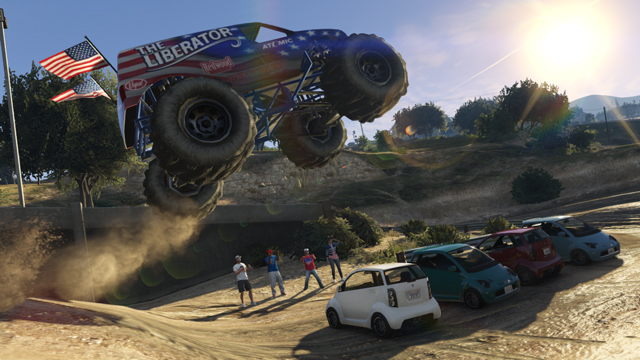 In addition to the discount on various items, players playing GTA 5 can also earn double GTA$ through the special GTA 5 Independence Day Online event playlist. This features "patriotic-themed" GTA Online Jobs including the Road Tripping team death match contest, parachuting mission Guns and Gasoline and more. If you complete all GTA Online Jobs by July 6 you will earn double RP with each job completed.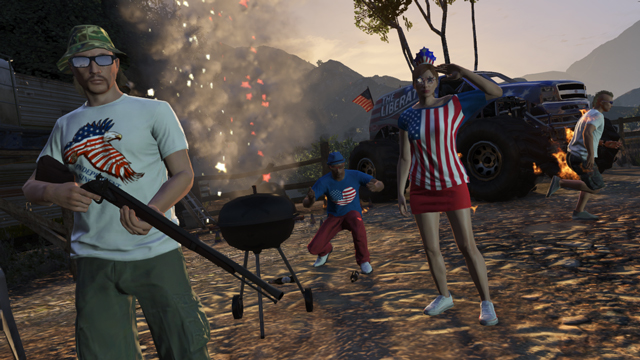 Immediately following GTA 5 Independence Day celebrations offering Double RP and GTA$ in GTA Online Events, another update will be followed, i.e. "Ill-Gotten Gains Update: Part Two." It will add a selection of new expensive weapons, clothing and vehicles for players to collect within Grand Theft Auto V. The add-ons will officially be launched next week and will be accessible for free across all platforms. One of the main reasons that fans are still engaged in playing Grand Theft Auto 5 is the way that Rockstar Games has delivered valuable updates.