Skycure Redefines Mobile Threat Defense with Updated Platform that Enables Safer and Smarter Enterprise Mobile Apps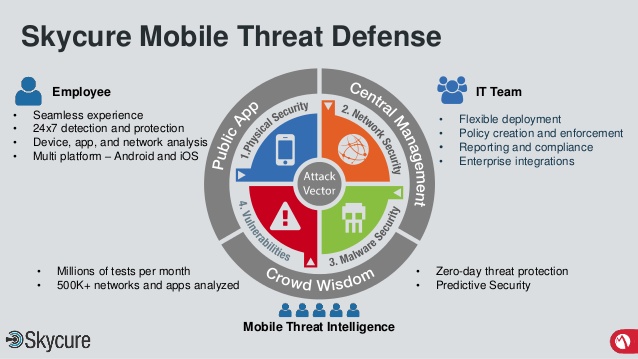 Comprehensive Mobile Threat Defense Solution Adds Mobile App Reputation Service and Built-in Threat Connectors so Enterprises Can Build Self-Defending Mobile Apps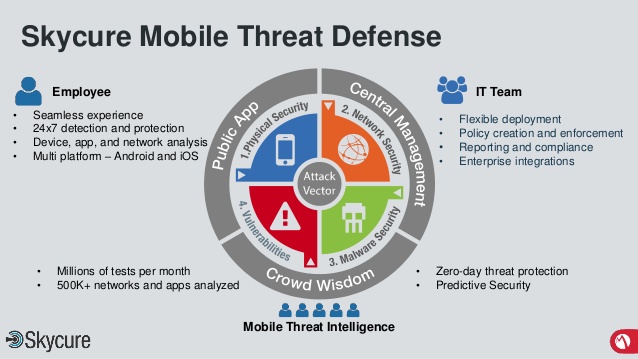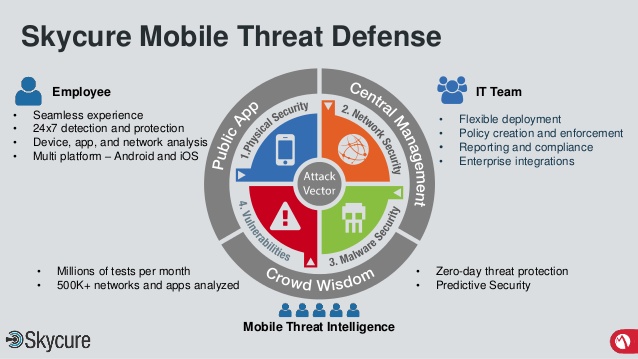 Palo Alto, Calif. – May 9, 2017 – Skycure, the leader in mobile threat defense, today released a new version of the Skycure Mobile Threat Defense Platform to help enterprises achieve greater mobile security. The new platform expands mobile threat defense to include on-demand app analysis of both enterprise developed and public apps to identify leaky but possibly non-malware apps that put enterprise data at risk.  In addition, the platform includes the Skycure Threat Connector, a micro-SDK for app developers so their apps can check the host device for risk/compliance issues and then leverage Skycure for an additional layer of protection that automatically protects sensitive data and assets. 
"Leaky apps are a problem for any organization with a mobile workforce, but if you're a large bank that has developed an app that handles billions of dollars in transactions, the stakes for business apps are monumental," said Yair Amit, co-founder and CTO of Skycure. "We work every day with customers that are solving this type of high-risk problem. The combination of Skycure MARS and Threat Connector on top of the Skycure Platform redefines Mobile Threat Defense. It's a complete solution that detects, remediates and protects devices, apps and sensitive data."
Skycure Mobile Threat Defense proactively protects mobile devices from the broadest range of known and unknown threats, while delivering the mobile experience users expect along with visibility and deep intelligence for enterprise security admins. The updated version of Skycure includes the following new features:
Skycure MARS (Mobile App Reputation Service) – On-demand app analysis with detailed reports to data leakage and privacy issues in mobile apps. Skycure MARS extends the existing real-time technology built into Skycure Mobile Threat Defense so customers do not need to invest in a separate, stand-alone MARS product.
Skycure Threat Connector– Micro-SDK that adds threat intelligence to 3rd party business apps so they can protect their own data and connections when the device is compromised. Allows app developers to create self-aware apps that can check the host device for risk and compliance violations without the need to include a full SDK in the code which requires frequent updating, causes library-conflicts and is a management nightmare. In addition to the comprehensive security offered by the deployed Skycure app, app developers can create a dynamic jail for their app and change its behavior based on device risk. Provides maximum protection, with minimum impact on device resources and teams.
Skycure Mobile Active Protection(MAP) –  A set of standalone protections to better secure devices and connected enterprise data and services against excessive risk and active attacks, that complements EMM/MDM policy enforcement without relying on it for real-time protection. Instantly protects corporate and personal data from malware and network attacks, even if communication to the EMM is blocked, and closes the communication time gap (often crucial minutes) between the device and corporate mobile security policy enforcement from the EMM.
Compliance-based Enforcement– In addition to risk-based enforcement, Skycure also offers compliance-based enforcement to address regulatory compliance and privacy laws around mobile devices. This is an especially pressing issue for multinational corporations operating in multiple geographies, especially in Europe. For example, the E.U.'s General Data Protection Act (GDPR) goes into effect

May 25th, 2018

and will affect all aspects of how data is handled for businesses inside the E.U. Companies that fail to meet these requirements by the above date will be fined either €20 million or 4% of worldwide annual revenue. This law is agnostic to the types of devices the data resides on, so securing mobile in the right way is paramount. Mobile security solutions using sideloaded private APIs have the highest risk of being in violation.
Integration with MaaS360, IBM's enterprise mobile management solution. Skycure also provides full integrations with all of the other top EMM vendors such as VMWare AirWatch, Microsoft,MobileIron, and Citrix Zenprise.
For details and to learn more about how Skycure Mobile Threat Defense protects organizations and prevents cyber attacks without compromising the mobile user experience or privacy, visit www.skycure.com.
About Skycure
Skycure is the leader in mobile threat defense. Skycure's platform offers unparalleled depth of threat intelligence to predict, detect and protect against the broadest range of existing and unknown threats. Skycure's predictive technology uses a layered approach that leverages massive crowd-sourced threat intelligence, in addition to both device- and server-based analysis, to proactively protect mobile devices from malware, network threats, and app/OS vulnerability exploits. Skycure Research Labs have identified some of the most-discussed mobile device vulnerabilities of the past few years, including App-in-the-Middle, Accessibility Clickjacking, No iOS Zone, Malicious Profiles, Invisible Malicious Profiles, WifiGate and LinkedOut. The company is backed by Foundation Capital, Shasta Ventures, Pitango Venture Capital, New York Life, Mike Weider, Peter McKay, Lane Bess, and other strategic investors.