Digital Marketing Tips for Starting a New Business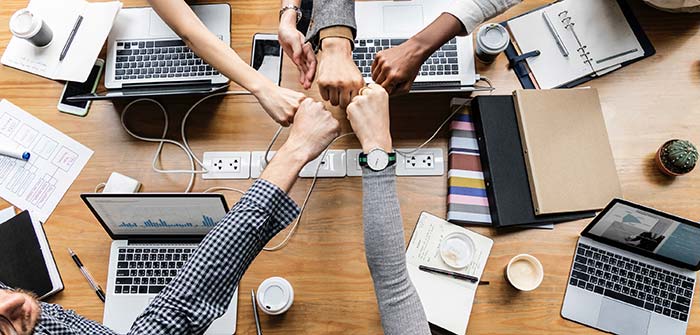 No matter if you plan to open up a tiny bakery, or you wish to expand your fashion line into a global business in a few years, the digital realm is no longer reserved only for the most prominent players in the game. On the contrary, businesses of all sizes and in all stages of development need to plan their digital presence in order to succeed in such a competitive environment.
Kick it off with a great website
The key ingredient in your digital recipe should be your website. After all, it is the sum of your visual identity, your voice, and it serves as your living, breathing digital entity that will help build up your entire reputation. However, not just any design or quality will do – since we live in the era where everything happens online, and people depend on numerous devices to stay in the loop on the go.
That means that you should always strive to have a mobile-friendly website, easy to use for your future customers, and with all the essential information presented in a simple, consistent way throughout all the pages. Those who come and visit your website will appreciate a sleek, user-friendly design, and they will be much more likely to remember your brand.
Do your best with social media
With so much on your plate, various things are bound to get neglected, and many new business owners choose to postpone their social media efforts precisely due to their devotion to other, more pressing matters. However, connecting with your audience in places where they spend most of their time (meaning, on social platforms such as Instagram, Facebook, or YouTube) is crucial for growth.
Do your best to start creating a strong, recognizable presence on these networks by sharing content with value to your customers. An occasional promotional post, contest, or discount will also be handy, but focus on quality communication and engagement rather than blatant advertising.
Cover all the details
Despite the fact that it may take you months to land a first major client or start delivering your goods, as soon as you start building your digital portfolio, you also need to think of the legal intricacies of your business. From finding a domain for your website, handling company registration properly, all the way to finding a reliable bookkeeper to take care of your finances, you need to set a firm foundation.
When you are recognized as a legal entity in your niche, your customers will be much more likely to get in touch and do business with you. Moreover, search engines appreciate the fact that your business has verifiable information, and you will be much more likely to pop up in search results.
Seek out regular feedback
All your digital marketing efforts pale in comparison with the power of your actual, loyal customers. Their whole-hearted recommendations, genuine feedback, and sharing practice can do so much for your business in the long-run, that it would be unwise to neglect this aspect of your strategy.
In addition to social media, where comments, shares, and likes can be more than enough to serve as ideal feedback, you should take advantage of review websites such as Yelp, where you can register your business and encourage your customers to leave reviews. Search engines love this form of feedback, they make it one of their top priorities to make your service or product known to your future customers if you truly are as good as your loyal clientele claims.
Develop an authentic voice
Even though there has been a shift of focus on visual content such as videos and photography, written content still reigns supreme in terms of marketing influence. Websites that provide meaningful content on a regular basis, and that are frequently updated are the ones who bring significantly more success to your business.
A content strategy with regular posts, engaging, unique content truly makes your digital identity a recognizable one, and offers value to your clients even before they consider using your product or service. This also means you have an opportunity to make your voice known, and turn your brand into an influential expert in your niche, one that people can turn to when they need your services.
To sum up
Simply put, the digital world is a fluid, ever-changing creature, and in order to succeed and grow, you will need to stay on top of the latest marketing trends to see results. These are just some of many that have been used for years, and they merely scratch the surface of the digital tools you can use to help your business soar.
Emma is a digital marketer and blogger from Sydney. After getting a marketing degree she started working with Australian startups on business and marketing development. Emma writes for many relevant, industry related online publications and does a job of an Executive Editor at Bizzmark blog and a guest lecturer at Melbourne University. Interested in marketing, startups and latest business trends.