TripIt's New iMessage Features Keep Everyone In The Loop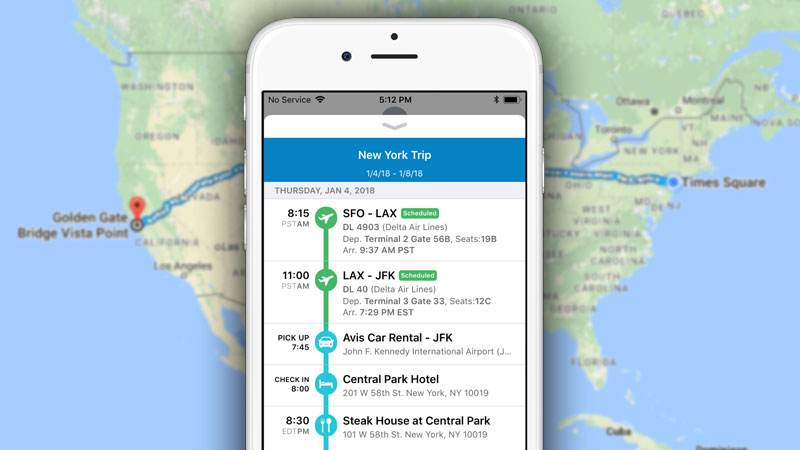 New iOS 11 Addition Makes It Easy to Share Last-Minute Changes While on the Go
SAN FRANCISCO, September X, 2017 – TripIt® from Concur®, the world's highest-rated travel-organizing app, today added dynamic updates to TripIt for iMessage. These new enhancements make it easy for travelers to keep friends, family and colleagues up to date about their travel plans, even as changes happen.
"All you have to do is add your plans to TripIt and share them through TripIt for iMessage—we'll take care of the rest," said Jen Moyse, director of product for TripIt from Concur. "With dynamic updates, there's no need to resend your trip details once you have booked the hotel, or added a dinner reservation."
The new iOS 11 addition also allows TripIt Pro users to share their real-time flight status through iMessage. Anytime a TripIt Pro user's flight changes—whether that's a cancellation, delay or gate change—TripIt for iMessage will refresh with the latest information. This gives the person with whom the flight was shared the ability to check the flight's current status, directly within Messages.
"Whether you're coordinating a meetup with a colleague or trying to figure out if your friend's flight is landing on time, TripIt for iMessage now gives you all the information you need. All you have to do is check your text messages," continued Moyse.
How it Works
TripIt for iMessage makes sharing travel plans as easy as sending a text. It allows TripIt users to send all or part of their travel plans through iMessage with other users. TripIt refreshes those plans when something is added or changed, ensuring everyone in the conversation has the latest information.
If a TripIt Pro user shares flight information, anyone receiving that information will be able to check the current status of the flight without leaving Messages.
TripIt will pull the latest trip information when the conversation is active. Everyone must also be signed in to the TripIt app and using iOS 11 to send and receive dynamic trip plans.
A subscription to TripIt Pro ($49/year) is required to send real-time flight updates.


About TripIt
TripIt from Concur, the world's highest-rated travel-organizing app, instantly organizes all travel plans in one place. Simply forward confirmation emails to plans@tripit.com, and TripIt will create a master itinerary for each trip with all travel details in one place—for free. The premium service, TripIt Pro ($49/year), has all the organizing power of TripIt plus additional features that help members stay one step ahead while traveling. Real-time flight alerts, refund notifications, and the ability to track reward points and miles are just a few of the additional benefits TripIt Pro members receive. Companies can extend TripIt Pro to their employees, while managing travel plans from every booking channel, with Concur TripLink; and provide their travelers with an easy way to reach their TMC if they need assistance during their trip with the TripIt for TMCs program. To learn more about how TripIt delights more than 14 million travelers worldwide, please visit us at http://www.tripit.com, follow us @TripIt on Twitter, like us on Facebook, and watch us on YouTube.
About Concur
For more than two decades, Concur, an SAP company, has taken companies of all sizes and stages beyond automation to a completely connected spend management solution encompassing travel, expense, invoice, compliance and risk. Concur's global expertise and industry-leading innovation keep its customers a step ahead with time-saving tools, leading-edge technology and connected data, in a dynamic ecosystem of diverse partners and applications. User-friendly and business-ready, Concur unlocks powerful insights that help businesses reduce complexity and see spending clearly, so they can manage it proactively. Learn more at concur.com or the Concur blog.